Aleafia Health makes $7.1 million selling Canada's cheapest weed
n Monday pot-producer Aleafia Health, Inc. (TSX: ALEF) (OTC: ALEAF) announced it found a buyer for 28 per cent of the company's inaugural outdoor harvest.
The company will sell 2,840 kilograms of dried flower from its Port Perry, Ontario growing site to an unnamed Canadian licensed producer for $2.50 per gram, earning Aleafia a tidy $7.1 million.
It's a profitable deal for Aleafia, considering the Port Perry grow site produces the cheapest cannabis in Canada at $0.10 per gram — in this case, representing a profit margin of 96 per cent.
"This sale validates the strength of our outdoor cultivation," Aleafia CEO Geoffrey Benic said in a statement. "Moving forward, we have a strong inventory of high quality outdoor input material to accelerate the growth of our priority international and Canadian medical sales channels."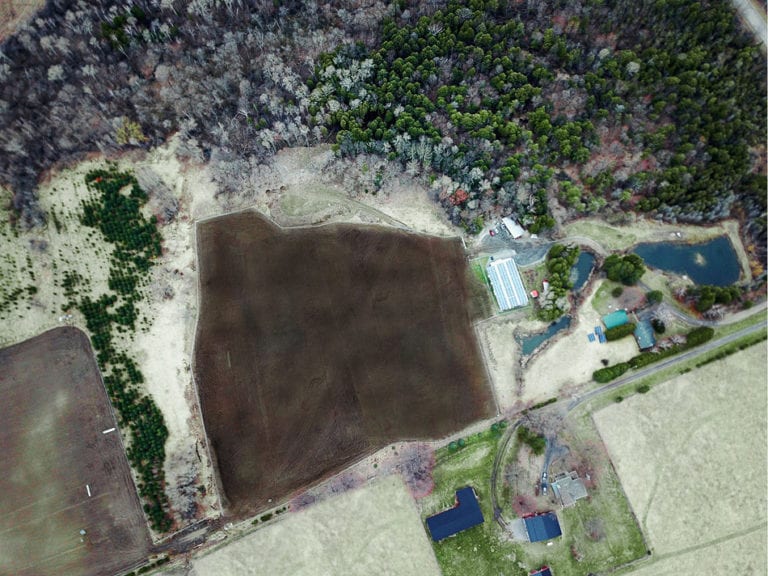 The first 26 acres of the Port Perry grow site in the spring of 2019. Aleafia has since bought the land next to and across the road from the site to expand the grow facility to 86 acres. Photo courtesy of Aleafia Health.
Moving that much cannabis off site could take up to three shipments, which the company says will up before Jan. 31, 2020.
Back in April 2019, Aleafia announced it was entering a five-year 175,000 kilogram supply agreement with Aphria Inc. (TSX: APHA) and a three-year, 9,000 kilogram supply agreement with Tilray (NASDAQ: TLRY) for its projected annual production of 138,000 kilograms of dried flower.
But the inaugural season only produced 1,000 kilograms of dried flower per acre, so Aleafia recalculated its full capacity production predictions to 102,000 kilograms of dried flower for the 86-acre Port Perry facility in 2020.

The 2020 growing season will plant out the two green fields and the newly purchased land across the road. Photo courtesy of Aleafia Health.
The 2019 harvest produced 10,300 kilograms of dried cannabis from the first 26 acres to be licensed and planted. Health Canada gave Aleafia the country's first outdoor cultivation licence in June and August which limited the company's growing season. Aleafia said with a longer growing season it will be able to boost cultivation to 1,200 kilograms per acre.
Aleafia dries all of the harvested cannabis at its on-site, 5,000 square-foot drying facility.
Al fresco cannabis produces similar cannabinoid content levels, such as THC or CBD, to identical strains grown and harvested indoors, Aleafia said.
420 Intel is Your Source for Marijuana News
420 Intel Canada is your leading news source for the Canadian cannabis industry. Get the latest updates on cannabis legalization in the country, how provinces and territories will implement legal cannabis in their respective locations, updates on Canadian cannabis stocks and developments on how Canada continues to be a major player in the worldwide recreational and medical cannabis industry.
Canadian pot companies are already worth billions of dollars and with imminent country-wide legalization, the Canadian cannabis industry will see an unprecedented amount of growth. 420 Intel Canada is the Canadian Industry news outlet that will keep you updated on how these Canadian developments in recreational and medical marijuana will impact the country and the world. Our commitment is to bring you the most important cannabis news stories from across Canada every day of the week.
Marijuana industry news is a constant endeavor with new developments each day. For marijuana news across the True North, 420 Intel Canada promises to bring you quality, Canadian, cannabis industry news.
You can get 420 Intel news delivered directly to your inbox by signing up for our daily marijuana news, ensuring you're always kept up to date on the ever-changing cannabis industry. To stay even better informed about marijuana legalization news follow us on Twitter, Facebook and LinkedIn.