Canadian Cannabis Retail Stalls in September: Stats Can
fter reaching an all-time high the month before, the legal cannabis retail market contracted across the country in September, according to new data from Statistics Canada.
Sales across the retail sector overall slowed by 0.1 per cent compared to the previous quarter — revenues from cannabis stores in particular fell to $123 million from $126 million, a 2.4 per cent decrease.
Other notable sectors of retail to take a hit were new car dealers and gasoline stations, according to data released Friday, down 1.9 per cent and 2.3 per cent respectively.
New Brunswick, which recently announced plans to privatize its provincial cannabis stores due to weak revenues, experienced a significant slowdown to September from August 2019. Sales dropped to $3.2 million from $5.4 million, a 40 per cent decrease.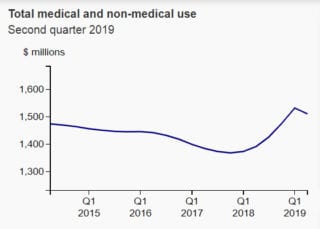 Cannabis retail suddenly started declining in September, according to Stats Can.
However, as Stats Can data on recreational sales is limited to the single-year time period of legalization, it's difficult to speculate that the slowdown is more than a seasonal trend. It's also worth mentioning that September has one less day than August.
But, according to Stats Can, legal recreational sales had been steadily increasing month-over-month through the summer: $85 million in May, $91 million in June and $107 million in July.
Ontario's cannabis retail sector, which some cannabis companies have blamed for their slowing profits, contracted by approximately 5.8 per cent. Rob Ford's provincial government recently announced plans to open up the sector and only limit its number of stores by consumer demand.
In Quebec, Canada's second most populated province, sales increased by 4.9 per cent. Amid industry and public backlash, its government is pushing back the legal age to 21 as of Jan. 1, 2020. Additionally, Quebec has banned the sale and consumption of edibles, which were legalized across Canada in October, which will likely affect future sales.
Earlier in the month, Stats Can reported that the average price per gram had fallen 6.4 per cent, to $7.37 from $7.87, which could also be affecting margins.
420 Intel is Your Source for Marijuana News
420 Intel Canada is your leading news source for the Canadian cannabis industry. Get the latest updates on cannabis legalization in the country, how provinces and territories will implement legal cannabis in their respective locations, updates on Canadian cannabis stocks and developments on how Canada continues to be a major player in the worldwide recreational and medical cannabis industry.
Canadian pot companies are already worth billions of dollars and with imminent country-wide legalization, the Canadian cannabis industry will see an unprecedented amount of growth. 420 Intel Canada is the Canadian Industry news outlet that will keep you updated on how these Canadian developments in recreational and medical marijuana will impact the country and the world. Our commitment is to bring you the most important cannabis news stories from across Canada every day of the week.
Marijuana industry news is a constant endeavor with new developments each day. For marijuana news across the True North, 420 Intel Canada promises to bring you quality, Canadian, cannabis industry news.
You can get 420 Intel news delivered directly to your inbox by signing up for our daily marijuana news, ensuring you're always kept up to date on the ever-changing cannabis industry. To stay even better informed about marijuana legalization news follow us on Twitter, Facebook and LinkedIn.