The next big thing in booming cannabis markets
What happens when new technology legitimizes a market that's already worth nearly $350 billion?
We are about to find out.
The market is cannabis, and the tech is from a little-known company called TruTrace (CSE:TTT; OTC:TTTSF) that's years ahead of the competition in this multi-billion-dollar niche segment.
The global cannabis consumer market is worth an estimated $344 billion buoyed by 160 million users, according to New Frontier data. The legal segment of this is growing at a record pace: Jefferies Group projects the legal cannabis market will be worth $130 billion by 2029.
The U.S. and Canada alone are expected to generate $172 billion in retail sales over the next six years, according to New Frontier.
Virtually everyone seems bullish about the future of legal weed.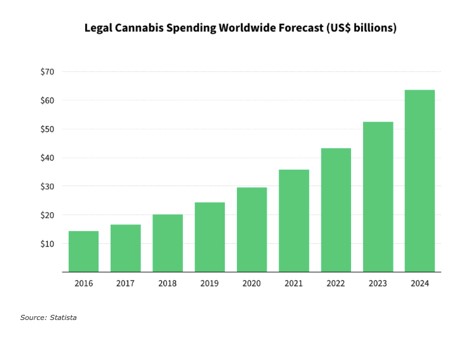 However you look at it, the numbers are astounding.
But there's one big problem with this booming market… The supply chain. It is both vulnerable and lacks transparency, a problem that could be keeping marijuana from growing into a trillion-dollar industry.
With TruTrace (CSE:TTT; OTC:TTTSF), this bottleneck might be removed entirely. This company's new tech is designed to assist with the entire supply chain, from plant to market.
And the best thing? There's no apparent competition yet.
For cannabis right now, the difference between a multi-billion-dollar industry and a potential trillion-dollar industry seems to be quality and provenance.
That requires a global technological solution that can secure every single strain on the planet for consumers.
And the company first out of the gates in this game could likely have a major advantage.
Here are 5 reasons to keep Ontario-based TruTrace Technologies Inc. (CSE:TTT; OTC:TTTSF) on your radar.
Reason #1: Legalization Drive = Explosive growth for $146B industry
Marijuana is fast losing its reputation as a grungy, pothead gateway drug, rebranding itself as modern, premium and artisanal - all thanks to the global legalization drive.
Just look at the U.S. cannabis legalization map, which only tells a part of this global story: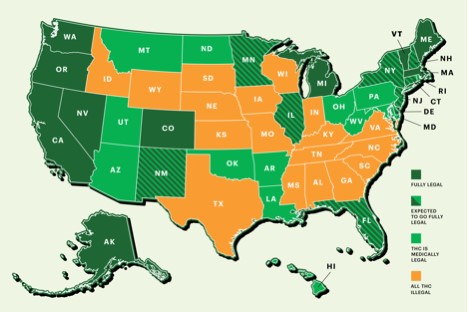 You can now light up legally in Canada, the District of Columbia, 30 different states in the U.S., Mexico, Belize, Costa Rica, Jamaica, Colombia, Ecuador, Peru, Argentina, Uruguay, Cambodia and Laos. Many more will soon follow.
According to the UN, a staggering 158.8 million people, or nearly 4 percent of the world's population, now consume marijuana.
But here's the alarming part: although the trend toward legalization for both medicinal and recreational purposes has been moving full steam ahead, the black market for marijuana remains massive. Despite the incredible potential of this emerging market, legal cannabis only made up $11.9 billion of the U.S. market in 2018.
And this trend rings true in Canada as well, the world's biggest legal weed venue.
During the final quarter of 2018, nearly 80 percent of Canadian weed sales were through the black market - a slight improvement from 90 percent the previous quarter.
Part of the reason for this curious trend is the fact that legal weed costs more than its illegitimate brethren, but the bigger reason has to do with supply chain issues (the Canadian government has curtailed retail hours and limited licensing distributions mainly due to health and safety concerns).
Luckily for marijuana investors, all that is about to change...fast.
According to industry estimates, the global legal cannabis industry is expected to experience explosive growth that will hit $146.4 billion by the end of 2025.
The future of the legal weed industry is bullish to the extent that even a famous Wall Street short-seller is calling it "The Big Long".
However, it simply won't get there without legitimacy.
The crippling bottlenecks in the marijuana supply chain need to be ironed out ASAP.
Luckily, the turning point for the industry has finally arrived.
TruTrace's (CSE:TTT; OTC:TTTSF proprietary StrainSecure seed-to-sale tracking technology, the first in the marijuana industry, is a genuine gamechanger that's set to significantly speed up the industry's legalization push.
Reason #2: Wide moat company with first-of-a-kind tracking tech
The legal weed industry is facing some formidable challenges.
- A disparate and highly fractured supply chain fueling a massive black market…
- Lack of product quality and consistency…
- A growing trend of piracy and counterfeiting brands…
That's why state regulators are demanding strict seed-to-sale tracking capabilities that will allow companies to seamlessly monitor legalized marijuana products across the supply chain.
That means monitoring where it was planted, harvested, processed, and ultimately - sold.
Consider this: each year, more than 1,000 tons of illegal marijuana are seized along the U.S.-Mexico border. That's weed worth millions of dollars going to fund criminal activities.
Just like the jewelry industry is now using IBM's blockchain technology to trace the origin of diamonds in a bid to filter out blood diamonds, the cannabis industry badly needs tracking tech for provenance and for preventing harmful or illegal products into the marketplace.
TruTrace (CSE:TTT; OTC:TTTSF) has already developed the technology that will take care of business here: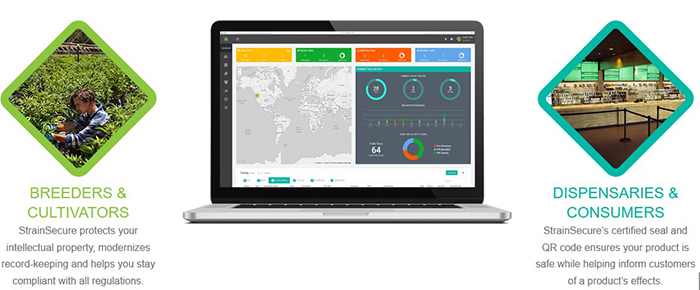 TruTrace Technologies has developed StrainSecure, the industry's first integrated blockchain platform to register and track intellectual property in the cannabis industry.
This advanced blockchain technology establishes a single-source, accurate, validated and permanent account for any cannabis strain - all the way to the market.
Even better: The digital platform also streamlines the administrative process, lowering the costs related to genetic and mandatory quality-control testing for legal cannabis.  
Each time a product is tested and verified by the network, a Registration Affidavit is auto-generated and assigned a unique StrainSecure Address traceable through a QR Code.
Producers, patients and consumers can not only verify and test their products but also rate them and share reviews. These details are secured on the StrainSecure blockchain and cannot be altered by any one party.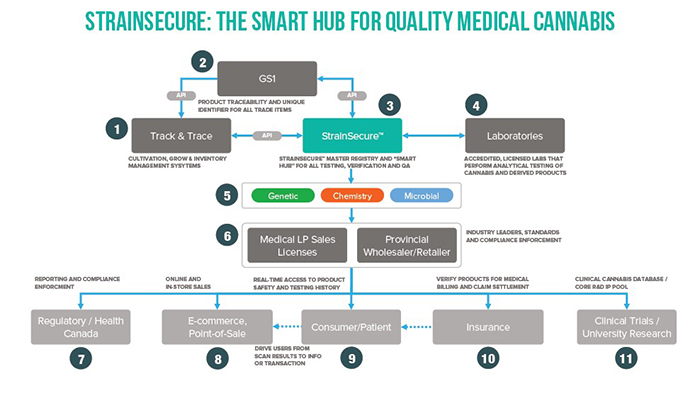 In short, TruTrace (CSE:TTT; OTC:TTTSF) seeks to become the marijuana's industry's IBM, the only company out there that can make claims related to traceability.
Incredibly, they have built this proprietary platform in-house, with a team with 21 years of large-scale enterprise software development for fortune 500 companies such as Microsoft and Mercedes Benz, as well as 8 years of experience in the cannabis and supply chain industry.
They are so confident in their product that they don't see any other company having anything like it for years to come.
This gives TruTrace a huge first-mover advantage and an incredibly wide moat that it can exploit for years to come…
Another advantage: TruTrace has signed a deal with Strainprint , a leading source of medical cannabis use data with more than 60 million data points from 1.2 million medical cannabis patients with reported outcomes.
TruTrace (CSE:TTT; OTC:TTTSF) has also entered an agreement with Molecular Science Corp. to leverage its industry-leading analytical capabilities.
Instead of being a chess piece on a crowded board, TruTrace has positioned itself as the board itself.
This is the epicenter of legal marijuana testing. It's the lucrative starting point for the entire industry's drive for transparency, standardization and compliance.
Reason #3: High revenue potential
Having a first-mover advantage in the modern tech world is almost always a ticket to breakout revenue and profits…
Not to mention nearly endless growth runways…
For TruTrace, the possibilities for growth are extremely attractive.
They already have the attention of the large medical community in the Canadian market-place and some in the US market-place.
And the company just signed a deal with one of the biggest drug distributors in Canada—with more than 1200 brick-and-mortar stores.
Why? Because it's the only tech of its kind available, and because the cannabis industry is in desperate need of it.
One of TruTrace's key markets are marijuana distributors - with more than 100 pot shops in Canada and over 2,000 dispensaries in the United States, it's safe to say the company's StrainSecure product will likely find a very ready and healthy market.
The outlook is certainly very compelling…
The cannabis testing market is rapidly taking off and is expected to grow from $1.5 billion currently to $2.4 billion over the next 5 years.
The food safety testing market is much bigger, currently valued at $14 billion and expected to exceed $23 billion by 2025.
TruTrace (CSE:TTT; OTC:TTTSF) has already performed test runs on the StrainSecure platform and has received permission to deploy a blockchain-secured pilot program to help tackle some of the industry's biggest problems.
The company's management estimates that the company could hit $7-10 million in annual revenues from a standing start. They think that could grow to $25-$50 million in a few years as the company ramps up its distribution channels.
Mind you, this is a company currently valued at just $25 million.
Reason #4: Considerable M&A Potential
The green rush is well and truly underway.
Currently, corporate tie-ups are all the rage in the marijuana sector.
Some very large transactions have sparked the cannabis sector lately, and much more is expected to come.
Mostly it's been big pot and big tobacco buying marijuana companies in multi-billion-dollar deals in the hope of getting a piece of the action.
- Constellation Brands'(NYSE:STZ) invested $4 billion investment into Canopy Growth Corporation(NYSE:CGC)
- Altria Group Inc. (NYSE:MO) has agreed to take a $1.8B minority stake in Cronos Group Inc.(NASDAQ:CRON).
- Aurora Cannabis Inc (NYSE:ACB) has agreed to buy smaller rival CanniMed Therapeutics Inc. for C$1.1 billion ($852 million.
One big risk: the marijuana growers and producers is an overcrowded industry and a major shakeout appears imminent. Concerns surrounding overproduction have repeatedly come up with fears that too much weed could crash the market.
In any crowded industry, only the most differentiated companies survive, i.e. those with the smartest and most unique solutions that cannot be easily duplicated. TruTrace (CSE:TTT; OTC:TTTSF) (formerly BlockStrain) has been identified as one of the few companies using technology in a unique way to transform the marijuana industry.
Who could potentially acquire TruTrace?
There's literally an endless list of companies that could be interested in buying this gem.
It could be any of the 100 or so public companies that operate in the medical and legal marijuana sector.
Or any of the thousands of private producers and distributors…
Or any of the hundreds in the food safety testing industry…
It could even be one of several companies that have already struck deals or Joint Ventures with TruTrace.
Let's now examine what TruTrace could fetch in such a scenario…or when the market finally wakes up to its true potential.
Reason #5: Explosive upside potential stock
You will be hard-pressed to find any industry that has gone through such explosive growth as the marijuana sector has over the past few years.
Tens of thousands of investors have realized incredible returns on marijuana investments…
Even after the latest correction, Cronos Group stock is still up a staggering 6,500 percent over the past three years…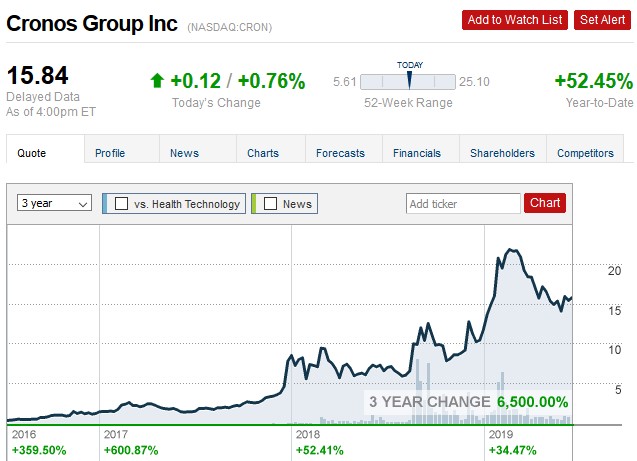 Aurora Cannabis stock has rallied more than 2,000 percent over the past 36 months…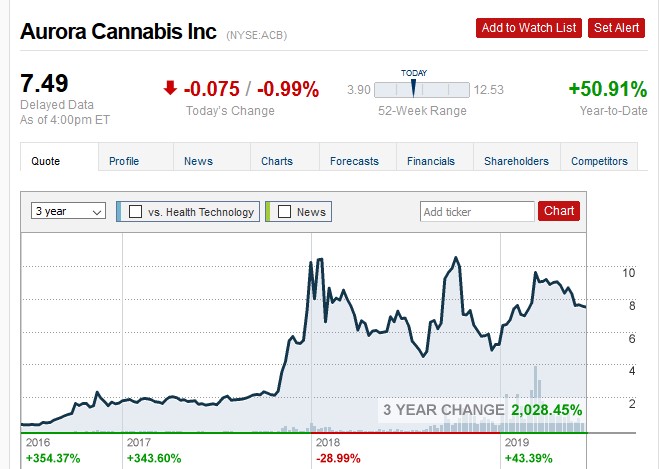 While Aphria Inc. has gained nearly 500 percent over the timeframe...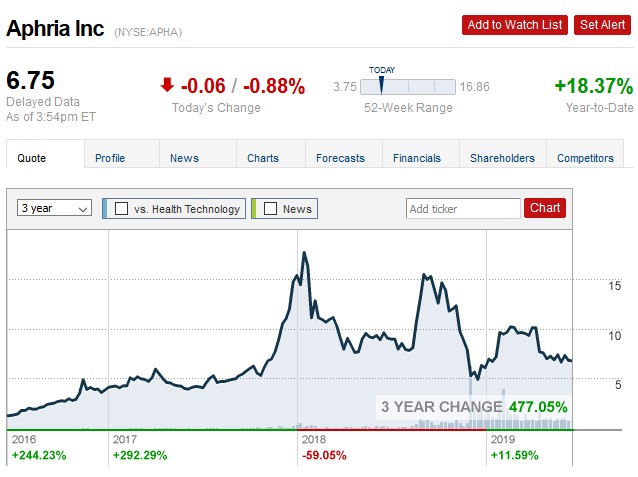 Despite concerns about frothy valuations, investors have continued to flock to marijuana stocks with the medicine and legal marijuana sector rallying 25 percent in the year-to-date, nearly doubling the return by the market benchmark S&P 500.

So, how does TruTrace stock stack up?
At a share price of just $0.31, TruTrace (CSE:TTT; OTC:TTTSF) is a bona fide penny stock, but penny stocks tend to have the most explosive upside potential compared to their pricier brethren.
The great part is that unlike many marijuana companies, TruTrace has zero debt on its books and technology that could potentially expand well beyond the cannabis industry.
Early-in investors have a chance to make a potential killing off this company, regardless of whether it gets acquired or continues to grow organically.
As Alan Brochstein, Founding Partner of New Cannabis Ventures, has aptly observed: "Companies with unique assets or business models are likely to be more appealing to potential buyers. Different geographies or modes of production are often cited by the buying companies, Consolidation is picking up in the cannabis space, and investors are rewarding the companies that are buying by pushing their stocks up after the deals are announced. This will likely encourage other companies to be me more aggressive in their M&A strategies.''
TruTrace ticks all the right boxes.
Other companies looking to ride the cannabis wave:
Curaleaf Holdings (OTC:CURLF) (CSE: CURA)
Curaleaf is a multi-faceted U.S. cannabis company, operating dispensaries, cultivating product, marketing and more. The company also produces a wide range of cannabis products, including concentrates, edibles, tinctures, capsules, vaporizer cartridges, and dry natural marijuana.
Despite the fact that the company only just went public, it has seen a lot of attention from investors, securing a valuation of over $4.5 billion.
Curaleaf's third-quarter financials shocked analysts, with Q3 revenue soaring by 289 percent. "Boasting the largest retail dispensary footprint under a single, unified brand, with now 33 locations across 10 states, Curaleaf has established itself as a leader in the burgeoning U.S. cannabis industry," CEO Joe Lusardi noted.
OrganiGram Holdings (NASDAQ: OGI) (TSX.V: OGI)
OrganiGram is another Canadian holdings company looking to take the burgeoning cannabis industry by the horns. With numerous subsidiaries from which it produces and distributes recreational and medical marijuana, OrganiGram is well positioned to ride the next Green Wave into profits.
OrganiGram has carved out its place in cannabis royalty by securing deals across Canada, from Saskatchewan to British Columbia. In addition to its in-person sales strategy, OrganiGram also offers another unique method of distribution. Online and over-the-phone options. More than that, however, OrganiGram and its partners knows how to manage the surging Canadian demand that has left other distributors without product for periods of time.
In a recent press release following Canada's landmark legalization event, the company applauded domestic partners for their efforts in managing exceptional consumer demand. "The company is also pleased to have collaborated with provinces and other jurisdictional partners across the country, supporting the successful launch of this new market," the release read.
CannTrust Holdings Inc. (NYSE:CTST) (TSX: TRST)
Canntrust is a cannabis company focusing on the numerous medical benefits of the plant. They offer a number of cannabis-derived products, from CBD and THC pills to actual plant matter.
In September, the company made history with the first approved shipment of a cannabis product to Denmark. The company shipped cannabis oils overseas in a breakthrough deal with its Danish joint venture partner, STENOCARE.
"Thanks to CannTrust's consistent quality and standardized products, we are the first in Denmark to have cannabis oil products approved for the market," noted Thomas S. Schnegelsberg, CEO of STENOCARE.
THC Biomed International (OTC:THCBF) (CSE:THC)
THC Biomed operates as a licensed producer under Canada's Marihuana for Medical Purposes Regulations. It is also engaged in the research & development of the products and services to medical marijuana.
THC Biomed's recently announced a new THC-based beverage, aiming to appeal to a broader range of consumers. John Miller CEO explained, "THC has conducted extensive research on cannabis edibles and beverages and I have found our product to be exclusive in its category."
Though THC Biomed may be smaller than some of its more well-known competitors, it is just as ambitious. And it's beginning to pay off. Earlier this month, the company made its first shipment of cannabis products to its Saskatchewan partner, and is rapidly expanding its holdings, with two new strata lot purchases, adding to its growing array of assets.
420 Intel is Your Source for Marijuana News
420 Intel Canada is your leading news source for the Canadian cannabis industry. Get the latest updates on cannabis legalization in the country, how provinces and territories will implement legal cannabis in their respective locations, updates on Canadian cannabis stocks and developments on how Canada continues to be a major player in the worldwide recreational and medical cannabis industry.
Canadian pot companies are already worth billions of dollars and with imminent country-wide legalization, the Canadian cannabis industry will see an unprecedented amount of growth. 420 Intel Canada is the Canadian Industry news outlet that will keep you updated on how these Canadian developments in recreational and medical marijuana will impact the country and the world. Our commitment is to bring you the most important cannabis news stories from across Canada every day of the week.
Marijuana industry news is a constant endeavor with new developments each day. For marijuana news across the True North, 420 Intel Canada promises to bring you quality, Canadian, cannabis industry news.
You can get 420 Intel news delivered directly to your inbox by signing up for our daily marijuana news, ensuring you're always kept up to date on the ever-changing cannabis industry. To stay even better informed about marijuana legalization news follow us on Twitter, Facebook and LinkedIn.