Cannabis Is the Most Commonly Used Illegal Drug Among Young Adults in Ireland
Warning message
The subscription service is currently unavailable. Please try again later.
(but MDMA use is on the rise)
CANNABIS REMAINS THE most commonly used illegal drug among young adults in Ireland, according to the latest European drugs report.
The 2017 report by the Lisbon-based European Monitoring Centre for Drugs and Drug Addiction (EMCDDA) measures the prevalence of drug use, addiction, treatment and deaths in European countries.
It draws on data from various surveys and reports published in recent years.
The report found that cannabis is the most prevalent drug used among young adults in the country, with 13.8% of 15-34-year-olds saying they have taken the drug in the last year.
This is by far the most commonly used drug among this age group.
The next most commonly used drug among young adults is MDMA, with 4.4% of 15-34-year-olds saying they have taken it in the last year. This compares to just 1% of the same age group saying they had taken the drug in the past year in 2011.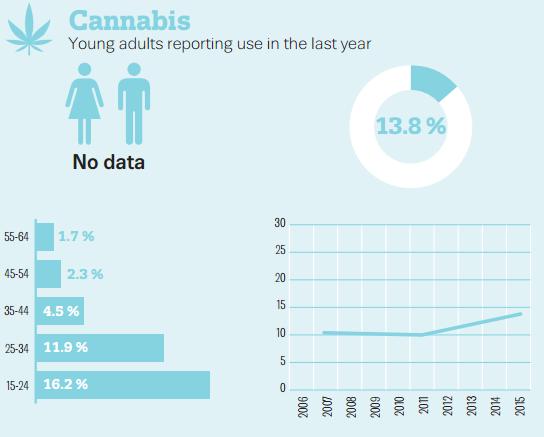 Source: EMCDDA
The data is based of the latest survey on estimated drug use, which was conducted in 2015.
The next most prevalent drugs used are cocaine (2.9%) and amphetamines (0.6%).
Among children aged 15 to 16 years old, the data showed a decline the percentage of people who had used alcohol, cigarettes and cannabis in their lifetime.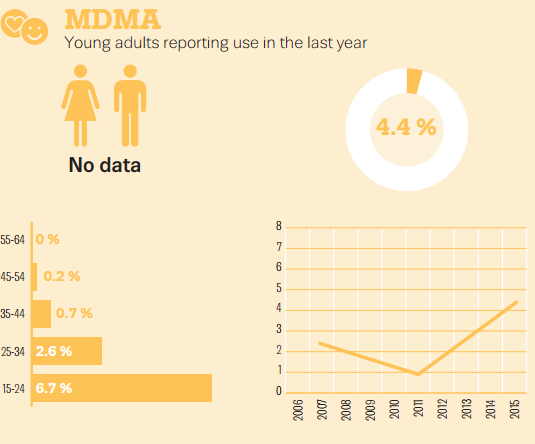 Source: use among adults in Ireland.
Treatment and other stats
The report found that the most common addiction for people to be treated for was heroin.
Of the people who sought treatment in 2015, 41% did so primarily for heroin addiction. This was followed by cannabis (28%), cocaine (11%) and amphetamines (1%). 19% of people sought treatment for addiction to other drugs.
214 people suffered from drug-induced deaths in 2014. Of these, among the deaths with a known toxicology, 86% had opioids present in their system.
In general across Europe, the EMCDDA highlighted rising overdose deaths, the continued availability of new psychoactive substances and the growing health threat of highly potent synthetic opioids as the key issues of focus in the report.
Commenting on the findings, Dimitris Avramopoulos, European Commissioner for Migration, Home Affairs and Citizenship said that the impact of drug use continued to be a "significant challenge for European societies".
"Over 93 million Europeans have tried an illicit drug in their lives and overdose deaths continue to rise for the third year in a row," he said.
New psychoactive substances (NPS) – also known here as "legal highs" – continued to be a considerable public health issue in Ireland, according to the report.
In 2016, 66 NPS were detected for the first time across Europe.
By the end of 2016, the EMCDDA was monitoring more than 620 NPS (compared with around 350 in 2013).
"We are seeing sales of these drugs becoming more clandestine, with transactions moving online or onto the illicit drug market, and we have witnessed the recent appearance of some highly potent substances, which have been linked to deaths and serious intoxications," said EMCDDA director Alexis Goosdeel.
You can read the full EMCDDA report for Ireland here, and the full report for all of Europe here. 
420 Intel is Your Source for Marijuana News
420 Intel Canada is your leading news source for the Canadian cannabis industry. Get the latest updates on Canadian cannabis stocks and developments on how Canada continues to be a major player in the worldwide recreational and medical cannabis industry.
420 Intel Canada is the Canadian Industry news outlet that will keep you updated on how these Canadian developments in recreational and medical marijuana will impact the country and the world. Our commitment is to bring you the most important cannabis news stories from across Canada every day of the week.
Marijuana industry news is a constant endeavor with new developments each day. For marijuana news across the True North, 420 Intel Canada promises to bring you quality, Canadian, cannabis industry news.
You can get 420 Intel news delivered directly to your inbox by signing up for our daily marijuana news, ensuring you're always kept up to date on the ever-changing cannabis industry. To stay even better informed about marijuana legalization news follow us on Twitter, Facebook and LinkedIn.