Organigram lays off 220 workers, warns of declining weed sales
Organigram Holdings Inc. (TSX: OGI) is laying off 220 employees while warning of declining cannabis sales and writedowns.
On Friday, the New Brunswick-based company said with 25 per cent of its staff removed, it will move forward with a leaner workforce and production capacity that's better aligned with current market conditions.
"These decisions are never easy to make, but we are committed to ensuring the company is appropriately sized relative to market conditions," Organigram chief executive Greg Engel said in a statement.
The company said the cuts will leave it with 609 employees including 84 employees who remain temporarily laid off, but could return if the business requires.
Organigram had temporarily laid off 400 workers in early April due to the Covid-19 pandemic.
The company said it will cut back production at its Moncton facility for the foreseeable future due to Covid-19 and changing market dynamics.
"As the company right-sizes its production to market demand and reviews its asset carrying values, it expects to report negative adjustments to inventories and an asset impairment on its Moncton facility," Organigram said.
"The company expects to report a decline in net revenue for fiscal Q3 2020 compared to fiscal Q2 2020 impacted by insignificant wholesale revenue being recorded in the quarter."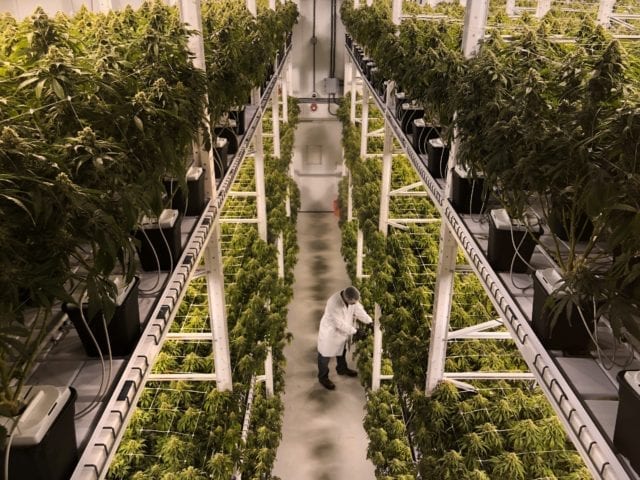 Organigram's production facility in Moncton, New Brunswick. Press photo
Organigram expects to file its third-quarter earnings report July 21, after receiving permission to delay the filing by Canadian securities regulators by almost one week.
The company is the latest Canadian cannabis producer to make major cuts to its workforce and production levels.
Last month, Aurora Cannabis Inc. (TSX: ACB) said it laid off 700 staff and will close five facilities across the country by the end of 2020.
Canopy Growth Corp. (TSX: WEED) terminated operations at two B.C. greenhouses in March, which accounted for 3 million square feet of licensed growing space and 500 jobs.
Tilray Inc. (NASDAQ: TLRY) shutdown its High Parks Gardens facility in Leamington, Ontario in May cutting 120 workers in the process.
According to Statistics Canada, only 29 per cent of consumers buy all their cannabis from legal sources.
The federal agency's data also shows legal sales are on pace to reach $2 billion this year, about one third of the estimated $6 billion Canadians spend on weed annually.
420 Intel is Your Source for Marijuana News
420 Intel Canada is your leading news source for the Canadian cannabis industry. Get the latest updates on cannabis legalization in the country, how provinces and territories will implement legal cannabis in their respective locations, updates on Canadian cannabis stocks and developments on how Canada continues to be a major player in the worldwide recreational and medical cannabis industry.
Canadian pot companies are already worth billions of dollars and with imminent country-wide legalization, the Canadian cannabis industry will see an unprecedented amount of growth. 420 Intel Canada is the Canadian Industry news outlet that will keep you updated on how these Canadian developments in recreational and medical marijuana will impact the country and the world. Our commitment is to bring you the most important cannabis news stories from across Canada every day of the week.
Marijuana industry news is a constant endeavor with new developments each day. For marijuana news across the True North, 420 Intel Canada promises to bring you quality, Canadian, cannabis industry news.
You can get 420 Intel news delivered directly to your inbox by signing up for our daily marijuana news, ensuring you're always kept up to date on the ever-changing cannabis industry. To stay even better informed about marijuana legalization news follow us on Twitter, Facebook and LinkedIn.