No, cannabis isn't recession proof, analyst says
Cannabis investors will learn the hard way that weed isn't recession proof, and pot stocks will continue to fall in 2020 despite a modest March rally, says one analyst.
After a COVID-19-related sales bump helped push cannabis stocks higher last month, a round of disappointing earnings from Canadian players cut into those gains this week.
But Jerome Hass, portfolio manager at Lightwater Partners, Ltd., says the sector is still in bubble territory and shareholders should be bracing for more pain this year.
"The sector has dropped 80 per cent since last April, and it's literally going to go down another 80 per cent this year," Hass told Mugglehead from his Toronto home office. "I think this latest rally is delusional."
After images of people lining up outside of cannabis stores started spreading last month, Hass said some investors went on a buying frenzy for producers like Tilray, Inc. (NASDAQ: TLRY), which soared as much as 73 per cent in March.
"It's just staggering what the retail investors believe," he said. "People actually believe that demand is going to go up in a recession."
Cannabis demand will fall in 'absolute terms': Hass
Similar to vices like alcohol and tobacco, cannabis exhibits "inelastic demand," Hass explains. That means when incomes fall during a recession, demand falls less than other normal goods.
However, those vices are still considered normal goods and Hass said 100 years of empirical evidence shows that demand for booze and cigarettes falls in absolute terms when economies contract.
And there's no reason to believe that cannabis should behave differently, he added.
"In these unprecedented times, a lot of rules have been suspended," he wrote in a recent note to investors. "The laws of supply and demand are not among them."
Therefore, recent hoarding is a one-off event and shouldn't be perceived as sustained growth, Hass explains. And the most recent data backs up his analysis.
According to U.S. cannabis data firm Headset, Canadian sales spiked as much as 60 per cent in the week ended March 19. But the following week sales for some days even dipped below previous March averages.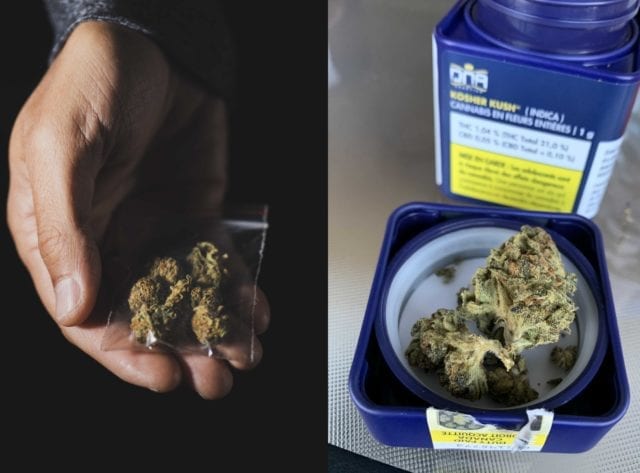 Illicit market weed was 44 per cent cheaper a gram than regulated cannabis, according to Statistics Canada. Photos via Deposit Photos
Thrifty consumers will turn to illicit market
Hass also points to historical financial reports from Diago, the world's biggest spirits company with brands like Smirnoff, Johnnie Walker and Guinness. He said during previous recessions the alcohol giant saw a drop in demand, but they also saw a substitution effect. That means people switch from buying premium whiskies, for example, to purchasing cheaper whiskies.
"So I think you'll see the same phenomenon within within the cannabis space," Hass said. "Consumers will shift down their price range towards value end products, putting further pressures on LPs average price realized."
Making matters worse for legal players, consumers will likely be buying more pot in the still-thriving cheaper illicit market, he added.
According to Statistics Canada, legal weed cost over $10 a gram compared to $5.73 for illicit cannabis, and less than 39 per cent of cannabis purchases were made legally.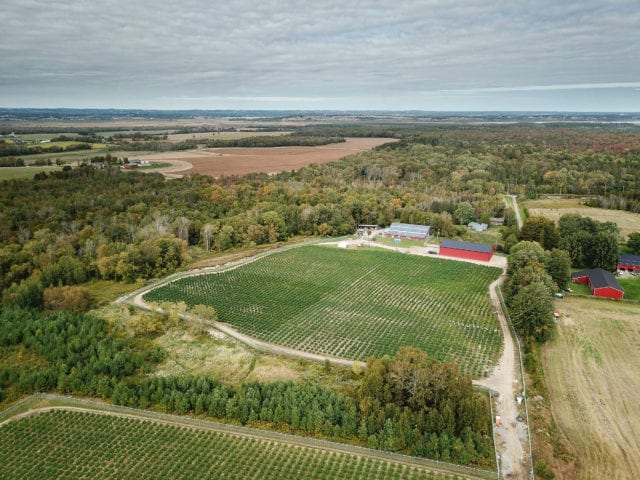 Aleafia Health grew outdoor weed in Ontario last year with an all-in production cost of 10 cents. More outdoor growing is expected in 2020. Press photo
Sharp decline in wholesale price on horizon
Hass says he feels sorry for any investors who think cannabis stocks will thrive during the COVID-19 pandemic.
Even if circumstances were back to normal, he says the larger Canadian LPs were never built to make money.
He points to a recent report published by investment bank Raymond James that predicts Canadian wholesale prices are going to drop from around $6 a gram, to 50 cents by June.
With more medium and micro producers receiving licenses, and larger companies like Aphria, Inc. (TSX: APHA) ramping up production, supply will be further saturated, Hass said.
Exasperating the issue, processors have been discovering they can buy cheap cannabis cuttings and trim for about 25 cents a gram while maintaining a healthy 80 per cent efficiency rate, Hass explains. That means the processors are turning down $2 a gram wholesale offerings from LPs, which was previously thought to be a bargain price.
But the real game changer is an increase in outdoor growing this year, according to Hass.
Last year, Aleafia Health, Inc. (TSX: ALEF) harvested 10,000 kilograms of outdoor weed with an all-in production cost 10 cents a gram, and Hass expects more than a dozen companies will be doing the same this year.
"I don't think that retail investors really comprehend that nor do most sell-side analysts," he said. "So there is such glut that is already out there and it's only going to get worse."
According to Health Canada, last October producers held more than 400,000 kilograms in dried cannabis inventory. In the same month, they sold just over 13,000 kilograms.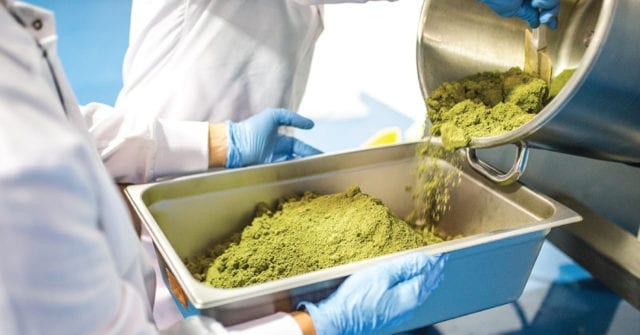 Cannabis being processed by The Valens Company. Press photo
LPs have been double counting sales: Hass
Because of an inevitable collapse in wholesale prices combined with the high costs of growing pot indoors in Canada, the Canopys, Auroras, and Aphrias were doomed from the start, Hass said.
"You have these companies that have invested millions of dollars in greenhouses and they were white elephants before they even finished completing them," he said.
But another phenomenon Hass sees happening in the Canadian cannabis industry is revealing itself with how Cronos Group, Inc. (TSX: CRON) recently delayed its results due to accounting errors.
Last month, the company said it had issues with revenue recognition and would be restating its first, second and third quarters of 2019 in accordance with a U.S. Securities and Exchange Commission investigation.
Hass said Cronos was selling cannabis product to processors, then buying it back from them and reselling it, and the company booked both sets of sales in those three quarters.
"So there was double counting that took place in the industry," he said. "So, when that reverses itself people are going to realize that many companies' revenues and financials are what people once thought."
Cronos, which currently has a $2.7 billion market cap, reported $7 million in revenue in the last quarter.
Hass says only a few American operators, Canadian processors are safe bets
Hass says because most institutional investors have exited the cannabis sector, the retail investors that are left don't do their homework on the pot companies they buy.
He cites how investors irrationally flocked to Sundial Growers, Inc. (NASDAQ: SNDL) when it twice delayed its quarterly results because they thought somehow that was good news.
Hass said the reason for the delay was the company — which carries almost $200 million in debt — was negotiating the final terms of a financial transaction.
Shares of Sundial rose 33 per cent in the two weeks before it reported a fourth quarter net loss of $145 million on March 30. Since then the stock has dropped 51 per cent.
Hass and his Lightwater team argue that only a handful of American pot companies and Canadian processors are worthwhile investments today.
American companies like Green Thumb Industries, Inc. (CSE: GTII) have the advantage over their Canadian peers because they can market and advertise while facing fewer restrictions overall.
Last week, GTI reported a record US$75.8 million in fourth quarter revenue. The company has 41 stores open in eight states and a current market valuation of $1.7 billion.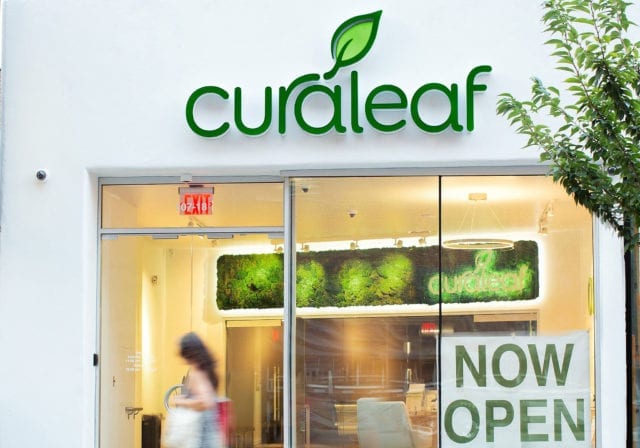 Lightwater Partners analyst Jerome Hass predicts U.S. operator Curaleaf Holdings will pass its Canadian peer Canopy Growth this year in terms of market capitalization and sales. Press photo
Hass predicts Curaleaf Holdings Inc. (CSE: CURA), which operates 54 dispensaries in 17 states, will "easily" pass Canopy Growth, Corp. (TSX: WEED) this year in terms of market cap and sales volume. In the last quarter, the company hit annualized sales of US$325 million. It's current market cap sits at $2.7 billion, while Canopy's comes in at $6.5 billion.
While a lot of multi-state operators have focused on empire building, Hass says Trulieve Cannabis, Corp. (CSE: TRUL) has focused on profit building in Florida's lucrative medical weed market. Of the company's 47 stores, 45 are in Florida, and in its last quarter it posted US$23.4 million in adjusted operating income, a rarity in the industry.
In Canada, Hass says extractor Valens GroWorks, Corp. (TSX-V: VLNS) has had pretty outstanding financial results and is probably one of only a few undervalued pot stock in the country.
But for the bulk of the major Canadian producers, Hass says steer clear.
"Someone's asking me if it'll be a V-shaped recovery. I said, it's not going to be V-shaped is going to be L-shaped," he said. "It's going to go down and it's going to stay down and that's the way this whole episode is going to end."
420 Intel is Your Source for Marijuana News
420 Intel Canada is your leading news source for the Canadian cannabis industry. Get the latest updates on Canadian cannabis stocks and developments on how Canada continues to be a major player in the worldwide recreational and medical cannabis industry.
420 Intel Canada is the Canadian Industry news outlet that will keep you updated on how these Canadian developments in recreational and medical marijuana will impact the country and the world. Our commitment is to bring you the most important cannabis news stories from across Canada every day of the week.
Marijuana industry news is a constant endeavor with new developments each day. For marijuana news across the True North, 420 Intel Canada promises to bring you quality, Canadian, cannabis industry news.
You can get 420 Intel news delivered directly to your inbox by signing up for our daily marijuana news, ensuring you're always kept up to date on the ever-changing cannabis industry. To stay even better informed about marijuana legalization news follow us on Twitter, Facebook and LinkedIn.