Will these pot stocks rebound in October?
The cannabis industry is in its most unpredictable era. Marijuana stocks have been stuck in a malicious hangover of late. Investors' interest in this space remains in high gear, driven by strong performances among some stocks in the sector. The group's powerful projected long-term growth dynamics also remain a focus.
However, 2019 hasn't been the best year for marijuana companies in the wake of rising losses, regulatory scandals and negative publicity. Therefore, a steep and fast drop in their share prices.
Though the legalization of recreational marijuana has made cannabis mainstream, still, the industry remains indecisive. And thus on one hand there are great pot stocks that the investors' could be hopeful of. There are also some of the murkiest ones which would dig a hole in the pocket of those same investors.
Not only has legal weed failed to make marijuana companies profitable, but the rush to get legal weed to the market arguably has contributed to a handful of losers.
Marijuana Stocks To Watch #1: CannTrust (CTST)
CannTrust Holdings (TSX:TRST) (NYSE:CTST) has received the greatest amount of negative publicity in recent months. With a highly untrustworthy management team, CannTrust had been in the indeterminate state for months. It was awaiting what seemed like the inevitable: the suspension of its licenses.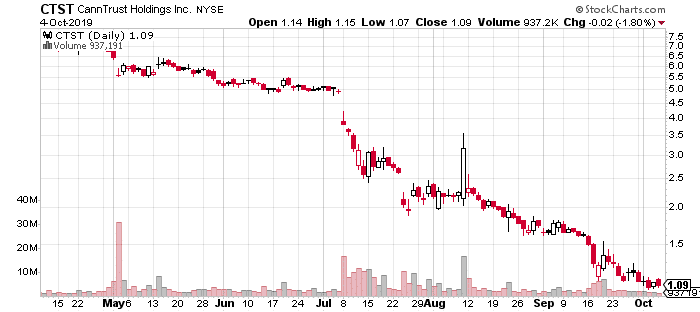 Health Canada finally brought the hammer down when it confirmed CannTrust would be suspended. While the cannabis producer technically didn't lose all of its licenses, the reality is that the company is in a dire situation. Without the reinstatement of its license, CannTrust could be seeing the beginning of the end.
The company has even been involved disgracefully in illicit cannabis growth in private. This has hurt the sentiment of investors who stood behind the company. Despite being one of the top pot stocks, the reputation of the company is at stake. With the stock getting the boot from the S&P/TSX Composite Index, few investors are likely to flock back. What does the future hold for CTST stock?
Marijuana Stocks To Watch #2: Tilray (TLRY)
Another weak stock in the category is Tilray (NASDAQ:TLRY). It has been one of the largest and most sophisticated producers of premium medical cannabis in the world. Despite having a very successful IPO rising 755% in just two months, TLRY stock has been stuck in a downtrend since. This is largely a result of an over-inflated stock price. At one point, this stock was trading at over 200-time sales–that's sales, not earnings. Can Tilray recover or are new lows in the cards?
420 Intel is Your Source for Marijuana News
420 Intel Canada is your leading news source for the Canadian cannabis industry. Get the latest updates on cannabis legalization in the country, how provinces and territories will implement legal cannabis in their respective locations, updates on Canadian cannabis stocks and developments on how Canada continues to be a major player in the worldwide recreational and medical cannabis industry.
Canadian pot companies are already worth billions of dollars and with imminent country-wide legalization, the Canadian cannabis industry will see an unprecedented amount of growth. 420 Intel Canada is the Canadian Industry news outlet that will keep you updated on how these Canadian developments in recreational and medical marijuana will impact the country and the world. Our commitment is to bring you the most important cannabis news stories from across Canada every day of the week.
Marijuana industry news is a constant endeavor with new developments each day. For marijuana news across the True North, 420 Intel Canada promises to bring you quality, Canadian, cannabis industry news.
You can get 420 Intel news delivered directly to your inbox by signing up for our daily marijuana news, ensuring you're always kept up to date on the ever-changing cannabis industry. To stay even better informed about marijuana legalization news follow us on Twitter, Facebook and LinkedIn.